If you're looking for that perfect holiday gift but can't figure out what to buy, we have just the right thing. 
A Christmas cactus is a beautiful indoor plant that's available in various colors. It has one of the most beautiful blooms of any houseplant, and they even last longer than many other varieties.
Christmas cacti come in a variety of sizes, colors, and shapes. But how much do they cost, on average? What factors can affect the price of a Christmas cactus?
In this post, I will cover the average cost and its factors and tell you if a Christmas Cactus would be worth it.
Let's get started!
How much does a Christmas cactus cost?
The average cost per plant comes in at $7 to $15. It varies as per plant size, location, seller, bloom color and even if it already has blooms.
If you want to spend less, consider purchasing a miniature version of the plant. The smaller versions will cost less than bigger plants. The more time and care you put into it, the more you will spend, so take your time before making a final purchase decision.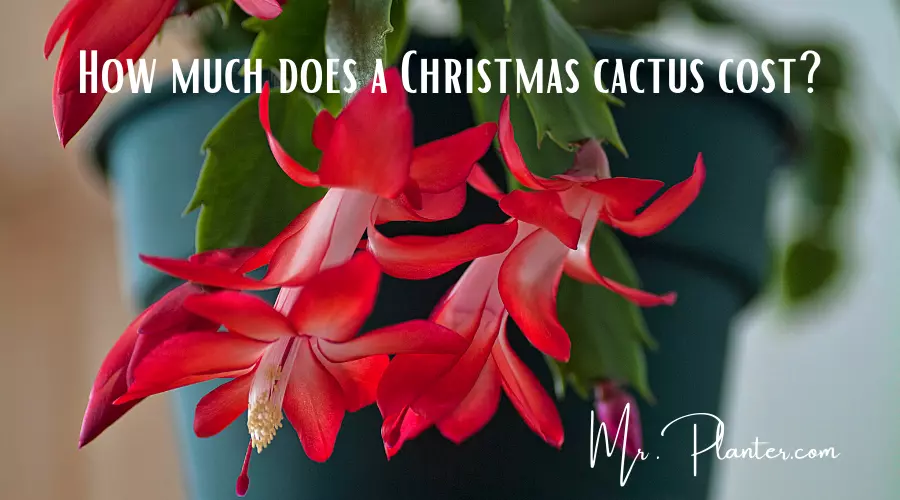 If you want to spend more, you can also opt for a larger version of this plant. Many garden centers have a variety of sizes, with the largest ones priced at more than $11 per plant.
The most common size is the 1-foot plant, which is the one that's most commonly found at retail locations. This can be a great choice for start-ups.
Factors that affect the cost of Christmas cactus
The average cost of a Christmas cactus depends on several factors. Some of these factors include: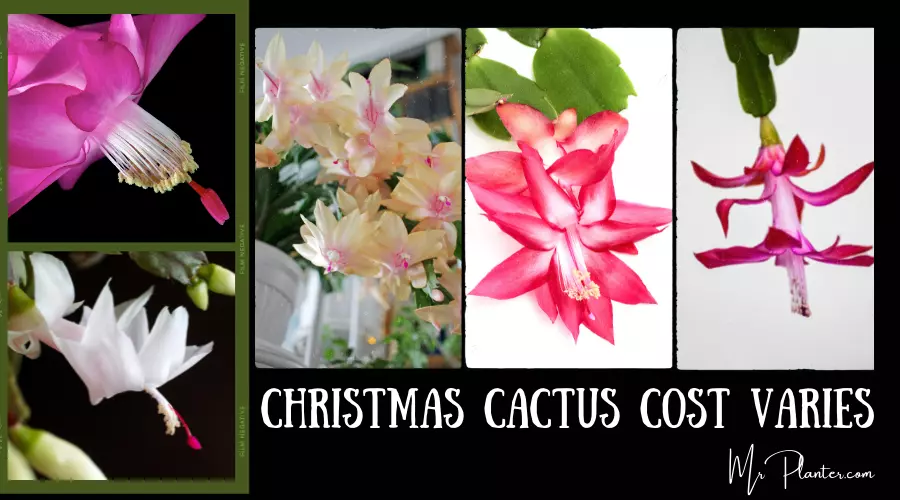 The number of flowers:
The number of flowers will affect the price. If you want a bigger, fuller plant, you may have to pay extra. Prices can range from $7 to $15 per plant, while those with more flowers can cost up to $22 or more per plant.
Location: 
You'll find that prices vary depending on where you purchase your Christmas cactus. It can be much cheaper to buy from a garden center, but you'll also have to make sure the plant you're buying is healthy. 
On the other hand, you can find plants of similar sizes and types at home improvement stores for less than half of the price.
Size: 
The size of the plant will affect the price, as well. You can purchase Christmas cactus from anywhere from 2 inches to over 6 feet tall. However, the larger they are, the pricier they tend to be.
Color:
Common colors of Christmas Cacti are sold at a normal rate, whereas the rare colors of Christmas cacti are more expensive.
They are not also readily available in every other nursery you visit.
Comparing Costs with other Cactus plants
The prices for Christmas Cactus vary depending on several factors, so it's important to be able to compare them with other cactus plants to find out which is the best one for your needs.
Easter cactus: 
While it's a close relative, the Christmas cactus has larger blooms and longer-lasting flowers.
In addition, its leaves are smoother as opposed to crinkly.
Easter cactus prices vary by location, seller, and size, ranging from $10 to $50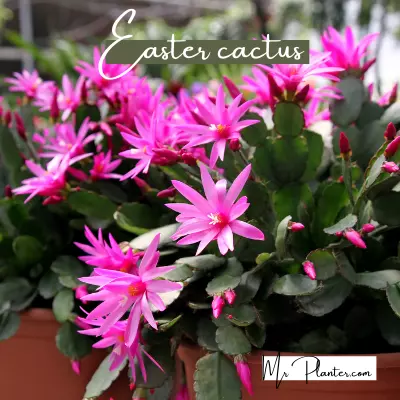 Poinsettia: 
Although it's also an indoor plant, the Poinsettia is more popular during the holidays. It also has a flowering period that's considerably shorter than the Christmas cactus. 
The Poinsettia is not as large as a Christmas cactus, and its flower is smaller in size.
Poinsettia prices range from $10 to $50, varying by location, availability, and demand.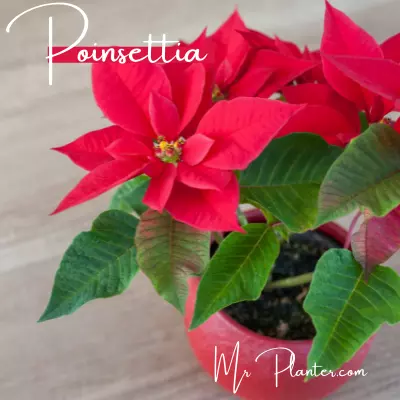 Thanksgiving Cactus: 
The Thanksgiving cactus is a good indoor plant for people looking for a small, low-maintenance plant. 
It has smaller flowers than the Christmas cactus, but it's still an attractive choice with its red blooms decorating the pot.
You can get Thanksgiving cactus starting from $6 and it can go up to $34 per plant. It can vary as per plant quality, location, seller and with some rare color bloom the plant price can get higher.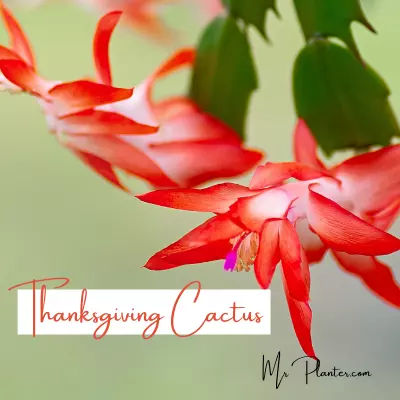 Opuntia Ficus: 
Although it's a low-maintenance option, these plants can be susceptible to disease and need extra care to grow well.
Fortunately, ficus plants are fairly inexpensive and can be purchased in containers or bare roots.
Opuntia Ficus price can range from $6 to as high as $70. This price depends on several factors like location, seller and even the size of the plant, how good the plant is.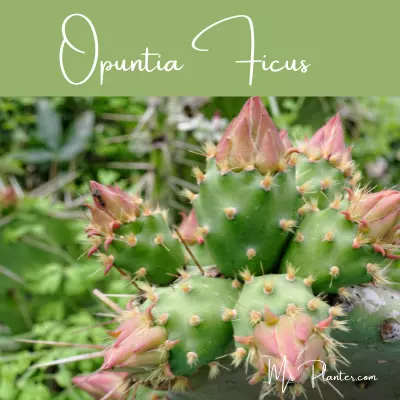 Is a Christmas Cactus Plant Worth It?
Christmas cactus plants are often given as gifts during the holiday season. But are they worth it?
Christmas cactus plants are relatively easy to care for and can thrive in various conditions. They don't require a lot of water, making them a good choice. The blooms on a Christmas cactus plant can last for several weeks, adding a touch of festive color to your home. 
The best way to determine if a Christmas cactus is worth it is to purchase one. You can do this either at the garden center or online. 
You can take note of the price per plant, the size of the plant, and the features of the plant. That way, you'll be able to decide if a Christmas cactus is actually worth it for you.
So, If you're looking for an easy-to-care-for houseplant that will add some seasonal cheer, then the answer is yes!
Where can you buy Christmas cactus?
Christmas Cacti are available in local nurseries and online stores.
Here are some of the most popular stores from where you can buy a Christmas Cactus according to your choice:
What is the Average Cost of a Succulent?
The average cost of succulents varies depending on various factors such as rarity, size, and source.
Succulents in the USA are sold at varying prices, with the cost ranging from $2.98 to $125 per plant. On average, a succulent costs around $25. Prices may also vary based on the location and where you purchase them.
Conclusion
Let's conclude the post on the Cost of a Christmas Cactus!
This is a relatively affordable gift that can last for many years with proper care. If you are looking for a unique and festive addition to your holiday decor, a Christmas cactus is a great option!
However, before buying one for your home, do check out the local nurseries, garden canters if you get a deal there.
I hope you found value in this post.
Thanks for your feedback!

Anirban Saha is an Engineer with a specialization in Electronics and Communication. He is the Founder and Editor of mrplanter.com and also techbullish.com. Anirban loves plants and pursue gardening as a hobby for more than 10 years.